Why do children learn?
EEG from the same child, 15 days later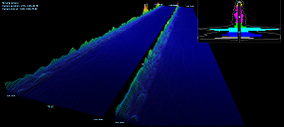 The optical-acoustic stimulus offered by Brainwave serves as an appeal to the mechanisms by which the brain keeps its own balance of timing and frequency. It takes the brain out of its undesirable state, invoking thus their own resources to the task of restoring the regulation.

Neurofeedback is therefore a learning process by which the brain increases its native self-regulating skills.

In the image above the EEG of the same child of previous images, but 15 days after the first session. Again three points should be highlighted: 1) the balance between the hemispheres is much greater, 2) the high frequency waves (green, pink and yellow horizontal bars) were reduced and 3) Alpha waves (light blue horizontal bars) are already overcoming the theta waves (dark blue horizontal bar), making the child ready to receive information and learning from the outside world.

Some rewards reinforce to the brain that the new state must be learned:

1. Relaxation and brain balance

After many months, often years, living with the brain in constant high activity and stress, for the first time the child can reach, with the help of the Brainwave, a state of relaxation and balance. This reward is per se enough to promote learning.

2. Emotional Relationship

It is usual that after the first training session, offered the opportunity, the child presents an emotional relationship with their parents never presented before. We explained above that affect regulation is intimately coupled to stress regulation. Regulating the one influences the other and vice versa. In fact, we have chosen to target the emotional circuitry as the most direct way of training stress regulation, taking advantage of this relationship.

3. Progressive cerebral Stability

The brain becomes progressively more stable as new skills accumulate over the next training. In general, the child will deal with her life in a more peaceful and balanced way and it will be presented to her a full learning program to develop her new brain state and capabilities.

More specifically, this training can be very helpful for children whose autistic presentation is further complicated by a seizure disorder. In fact, epilepsy was the first clinical indication for which efficacy of EEG feedback was proved in animal and human subject research, so the focus on seizure susceptibility is appropriate. The story is consistent throughout: moving the child to better-regulated states helps brain stability, and so does the renormalization of connectivity relationships. Control of seizures then may open the door for enhanced cognitive function. We will have kindled a virtuous cycle in which every specific advance also promotes the overall objective of enhanced functionality.