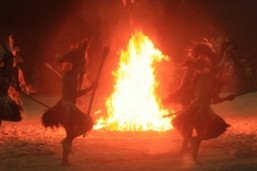 Humans have been experimenting with what we now call trance technology for at least 65,000 years. That's the date of the earliest remains indicating that people danced around the flames of a fire, creating a primitive stroboscope for observers. Bashing a log with a rock added sound, and there you have enough to alter consciousness. Witch doctors and shamans have used such knowledge ever since.

By 5,500 years ago, Tibetan Buddhist monks had refined the system into a spinning prayer wheel through which a candle flame flickered whilst a monk spoke into the user's ear and another beat a drum. It was clear even then that lower frequencies of flashing light and drums caused people to sit calmer and learn better.

But no one knew what exactly was happening until around 100 years ago, when the British biologist Richard Caton discovered that the brain emitted electrical impulses. Around 1938, German doctor Hans Berger actually isolated a brainwave, the so-called alpha wave, with a frequency of around 7-10 Hertz (cycles per second).

Like Cade, he had to stick needles into his subjects heads to get a reading. Unlike Cade, Berger had an unlimited number of "white rats" to which no one cared what happened - Jews. Berger's aim was to isolate the "learning wave". The Nazis wanted to know how they could teach soldiers to use all their new military equipment more quickly, and do exactly what they were ordered to. Fortunately, Berger had no idea how to replicate the wave or teach soldiers how to generate it.

The next advance in trance technology came in the 1970s, when the Maharishi Mahesh Yogi began teaching Transcendental Mediation. "The first form of mediation you could learn without sitting on a rock for 20 years,". Also during the '70s, the first light and sound machines were built in California, and their interest grew in trying to teach people to generate an alpha wave by bio-feedback.

Why alpha? Because it's the state of relaxed concentration or "lucid awareness". Typically, it's a wave of around 7 Hz - about 50 percent slower than the normal waking-thinking state. It allows total concentration and synchronisation of the left and right hemispheres of the brain; perfect for reading, listening and other forms of information input. It also facilitates synchrony between the two halves of the brain. Synchrony, as researchers such as Charles Stroebel and Princeton University's Lester Fehmi have discovered, is an extremely powerful and beneficial state to be in. It is involved in rapid healing and normalisation of body functions, and enhances learning rates and stress control. A balanced brain means a balanced body and mind, it seems.

Unfortunately, it can take hundreds of hours or thousands of dollars to learn how to get to the point where you can duplicate the alpha wave. In fact usually the price was "everything"; that's what gurus charge to dole out secrets one by one over the years. "Now, the computer is the guru," they say.

In spite of the intense interest in brain machines, after experiments with Zen monks, students and professionals, Maxwell Cade - author of The Awakened Mind - and Michael Hutchinson in Mega Brain agreed: it takes 15-20 years practice to generate an alpha wave at will.

The first key advance of the Alphalearning Institute was to stop messing with biofeedback and go right in and implant the desired brainwave. Since the autumn of 1992, the Institute's equipment and techniques have been capable of diagnosing - within ten minutes - any left-right brain imbalance, wave amplitude extremes and control lapses.

A customised programme of flashing gold light into the eyes and soft stereo sound into the ears brings these into normal ranges in just 12 minutes. Next, "Neuro Linguistic Programming" (NLP) is used to embed this balanced state. NLP, discovered by John Grinder, is when a command or compliment from a perceived authority figure in front of a peer group, accompanied by a physical touch or reaction, creates a permanent mental anchor. You will now behave that way for the rest of your life, or at least until someone changes it.

This insight stemmed from the findings of a group of 40 Harley Street consultants working at Regents Park College in London in the summer of 1989. Looking for a cure for smoking, they proposed that if they could only take a patient into the theta brain state - 3 Hz - and hold them there long enough, they could take them back to their first cigarette and ask why they're smoking it, and whether it was still a valid reason to smoke.

Over a three-month period, they found that it was possible to change all their subjects' brain states - instantly - within a few seconds. Previously, everyone in the field believed that this took 20 minutes to achieve. Hence the 'ramping' used by all other brain machines, gradually increasing or decreasing oscillation between waking and desired frequency. Furthermore, it was possible to teach them in just a few days how to control these states themselves.

The Alphalearning Institute's six-year roller coaster finale to a lifetime's research was about to begin. Already it had taken him from his roots on an American ranch through degrees in physics and higher mathematics, via two years research into trance and mediation techniques in India and Nepal, to six world records for mental achievement, including World's Fastest Reader at 3,850 words a minute (you're reading this at 200-300) and IQ records in vocabulary and recognition and manipulation of similarities.

All previous studies on brain activity had used brain damaged, autistic or otherwise non-optimal subjects. Alphalearning hooked up with the European branch of the American Management Association. They tested 75 (male) top corporate executives from a range of countries and 75 (female) senior corporate secretaries - and found the technique worked on all of them, too, irrespective of nationality.

A four-minute electro-encephalogram (EEG) test was developed to check subjects' ability to listen and learn, read and learn, to close the eyes and relax, perform maths and the ability to make decisions. From this, the newly-formed Alphalearning Institute isolated the precise frequencies of the various frequencies of the brainwaves - beta (14 Hz, the normal waking, alert, reasoning state), alpha (7 Hz, receptive, learning), theta (3 Hz, the concentrated, creating state where a new memory is stored or an old memory accessed) and delta (2 Hz, relaxed, resting, the state used for pain control: there is no pain in delta) - that the brain could learn.

Using an old InnerQuest brain machine - a model since discontinued - the researchers would put the executives into a theta state and take them back to the moment as children they were reading out loud and the teacher came along and patted them, saying "Well done, Johnny". "From that point on - and everyone has one - that is the speed at which you read. NLP again." "We found a direct correlation between the speed at which people talk and the speed they read. Italians read around 330 words a minute, Dutch about 220, Germans 280 - and Texans about 180.

"So now we just put them in theta and say 'Johnny, now you can read to people - that's a really good skill. Now would you like to learn another reading skill called reading to yourself?' And they go, 'Uh, yeah." So we put a pen in their hand and set it moving to a metronome (the technique involves reading with a pointer) and tell them that all they have to do to read at this speed is, when I say 'one, two, three' and snap my fingers, they'll be able to. And they can. Seven hundred words a minute."

It's that simple? "Yes, which is why all these companies went, 'Oh my God, how quick can you train our executives? Can you train them to take notes? Control stress? Be more creative? Stop chewing fingernails?' Well, it beat the hell out of me, but I said we'd try."

Throughout 1991, Alphalearning Instiute commuted around Europe training 300 executives from a wide range of companies, nationalities and languages, checking and double-checking. On the basis of this study, three companies - Raychem, ICL Benelux and Henkel - signed up for more extensive training sessions. They'd provide the "white rats": executives with IQs in the 120-180 range. The Alphalearning Institute would experiment on and train them.

The answer was yes to all the questions. Alphalearning can optimise the brain for information throughput and memorisation, old habits can be reprogrammed. In delta, subjects could withstand pain - and there is a host of other applications.


Jan Willem van den Brandhof, director of human resources for ICL contacted the Alphalearning in 1991 after seeing an article about speed reading - a pet interest of his. Since then, 40 of the company's 650 employees have been trained - all the top management layer, plus some salespeople.

"All the responses were positive, and everyone was impressed by what they learned," says van den Brandhof. "In our business, change is so fast - the amount of information doubles every two years. It's of the utmost importance to learn fast and absorb a lot of information quickly. Learning to learn is key.

"Also, as workloads and required productivity increase, so the level of stress is an increasingly important factor in business. If you can work with simple techniques that improve on that, it's a very good investment. I believe what the Alphalearning Institute has developed is a unique programme - it's not your standard speed reading course."

What level of employee would benefit from the course in an organisation such as his? "Managers, salespeople and anyone who has to cope with a lot of information and is under stress - and if you look at my company, that's pretty much everyone," says van den Brandhof.

The Institute has also experimented with more than one subject hooked up at the same time, so they can see each other's brain reactions to interaction. The results have profound implications for teamwork, and indeed on any interpersonal communications. For example, the brain broadcasts as well as receives; a trained brain can influence the brain state of those to whom its owner is talking.